| | | | | |
| --- | --- | --- | --- | --- |
| | | | | Kuratowski's Closure-Complement Cornucopia |
---
There is a large and scattered literature on Kuratowski's theorem, most of which focuses on topological spaces; an admirable survey is the paper of Gardner and Jackson

[2008 GJ AB. J. Gardner, Marcel Jackson, The Kuratowski Closure-Complement Theorem, New Zealand J. Math., v. 38, 2008, pp. 9‑44.].
—Janusz Brzozowski, Elyot Grant, and Jeffrey Shallit [2009 BGS‑a AJanusz Brzozowski, Elyot Grant, Jeffrey Shallit, Closures in Formal Languages and Kuratowski's Theorem, arXiv:0901.3761 [cs.CC], arXiv.org, 2009, 12 pp.]
---
The purpose of this website is to index the abundance of literature related to Kuratowski's closure‑complement problem.
After completing his Ph.D. at the University of Warsaw in 1921, Kazimierz Kuratowski published the first part of his dissertation in the Polish journal

Fundamenta Mathematicae

the following year [1922 Kuratowski AKazimierz Kuratowski, Sur l'Opération Ā de l'Analysis Situs (On the Topological Closure Operation), Fund. Math., v. 3, 1922, pp. 182‑199, in French. (in French)], [1922 Kuratowski EKazimierz Kuratowski, Sur l'Opération Ā de l'Analysis Situs (On the Topological Closure Operation), English translation by Mark Bowron, Math Transit.com, 2012, 11 pp.]. It contains this alluring result:


Whenever one subset in a topological space has closure and complement applied to it repeatedly (in any order), the number of distinct subsets generated is always less than or equal to 14.


In his classic textbook [1955 Kelley BJohn L. Kelley, General Topology, 1955, p. 57.] which named every problem, John L. Kelley challenged his readers to solve this

Kuratowski Closure and Complement Problem.

The name

14-set theorem

has also been used in recent times.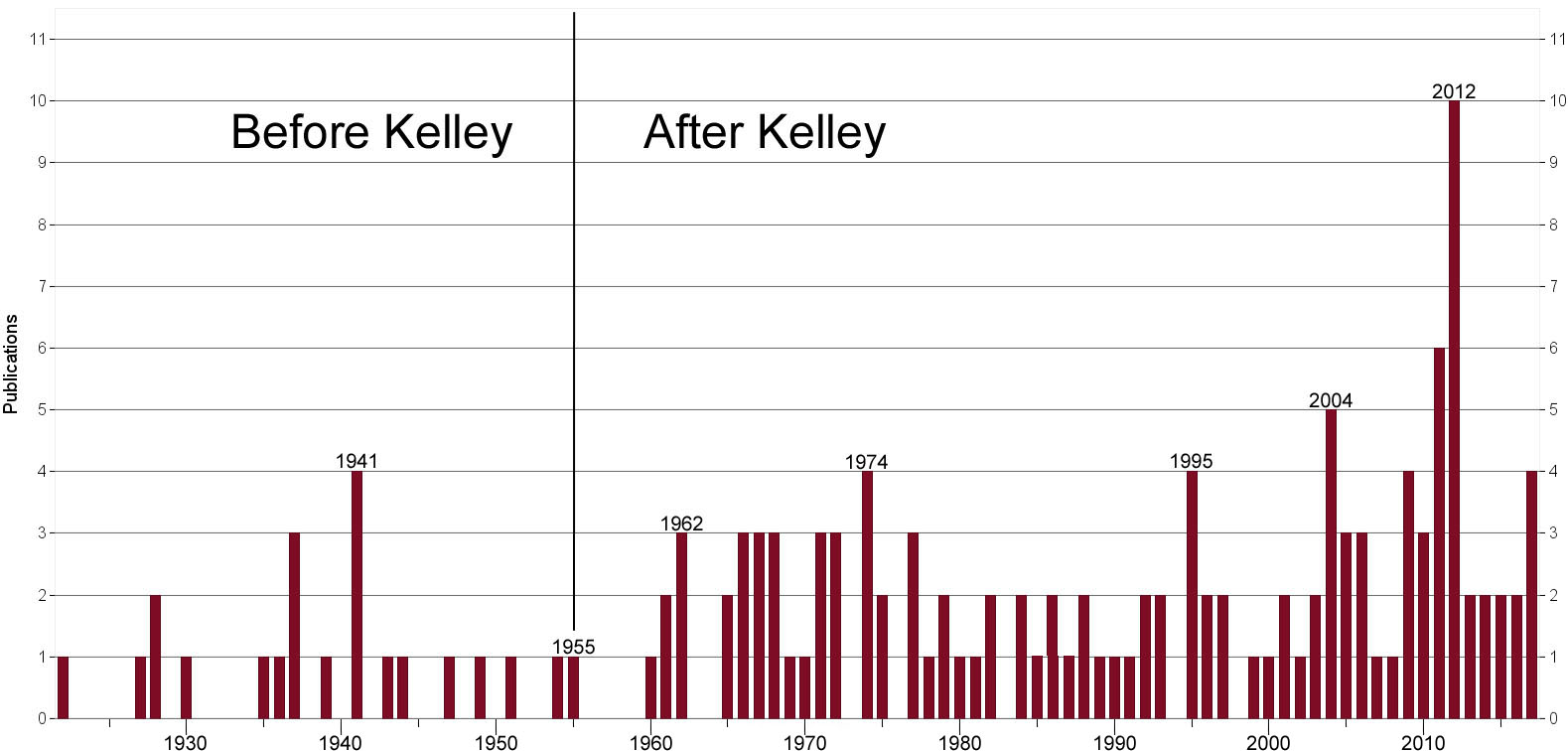 Kelley's

General Topology

represents a turning point.


The number of citing sources on this website is one way to measure a publication's importance.


| | |
| --- | --- |
| 102:  | 1922 Kuratowski AKazimierz Kuratowski, Sur l'Opération Ā de l'Analysis Situs (On the Topological Closure Operation), Fund. Math., v. 3, 1922, pp. 182‑199, in French. |
| 38:  | 2008 GJ AB. J. Gardner, Marcel Jackson, The Kuratowski Closure-Complement Theorem, New Zealand J. Math., v. 38, 2008, pp. 9‑44. |
| 35:  | 1960 Hammer AP. C. Hammer, Kuratowski's Closure Theorem, Nieuw Arch. Wisk., v. 8 no. 2, 1960, pp. 74‑80. |
| 29:  | 1955 Kelley BJohn L. Kelley, General Topology, 1955, p. 57. |
| 23:  | 1966 HM AH. H. Herda, R. C. Metzler, Closure and Interior in Finite Topological Spaces, Colloq. Math., v. 15 no. 2, 1966, pp. 211‑216. |
| 22:  | 2010 Sherman ADavid Sherman, Variations on Kuratowski's 14‑Set Theorem, Amer. Math. Monthly, v. 117 no. 2, 2010, pp. 113‑123., 1971 Langford AEric Langford, Characterization of Kuratowski 14‑Sets, Amer. Math. Monthly, v. 78 no. 4, 1971, pp. 362‑367. |
| 21:  | 1984 Peleg AD. Peleg, A Generalized Closure and Complement Phenomenon, Discrete Math., v. 50, 1984, pp. 285‑293. |
| 19:  | 1962 Chapman‑b AThomas A. Chapman, A Further Note on Closure and Interior Operators, Amer. Math. Monthly, v. 69 no. 6, 1962, pp. 524‑529. |
| 18:  | 1971 AS AJ. Anusiak, Kar‑Ping Shum, Remarks on Finite Topological Spaces, Colloq. Math., v. 23 no. 2, 1971, pp. 217‑223. |
| 17:  | 1972 GKM AR. L. Graham, D. E. Knuth, T. S. Motzkin, Complements and Transitive Closures, Discrete Math., v. 2, 1972, pp. 17‑29., 1967 Aull AC. E. Aull, Classification of Topological Spaces, Bull. Acad. Pol. Sci., Sér. Sci. Math. Astron. Phys., v. 15, 1967, pp. 773‑778. |
| 16:  | 1991 Fife AJames H. Fife, The Kuratowski Closure-Complement Problem, Math. Mag., v. 64 no. 3, 1991, pp. 180‑182., 1944 MT AJ. C. C. McKinsey, Alfred Tarski, The Algebra of Topology, Ann. of Math., v. 45, 1944, pp. 141‑191. |
| 15:  | 1966 Koenen AWilliam Koenen, The Kuratowski Closure Problem in the Topology of Convexity, Amer. Math. Monthly, v. 73 no. 7, 1966, pp. 704‑708., |
| 14:  | 1927 Zarycki AMiron Zarycki, Quelques Notions Fondamentales de l'Analysis Situs au Point du Vue de l'Algèbre de la Logique (Some Fundamental Concepts of Topology in Terms of the Algebra of Logic), Fund. Math., v. 9, 1927, pp. 3‑15, in French. |
| 13:  | 2000 Munkres BJames R. Munkres, Topology, Second Edition, 2000, p. 102., 1974 SY PArthur Smith, Kuratowski Sets, Problem 5996, Amer. Math. Monthly, v. 81 no. 9, 1974, p. 1034, Solution: Chie Y. Yu, v. 85 no. 4, 1978, pp. 283‑284. |
| 12:  | 1982 Chagrov AA. V. Chagrov, Kuratowski Numbers, Appl. Funct. Anal. Approx. Th., 1982, pp. 186‑190, in Russian., 1970 SS BLynn Arthur Steen, J. Arthur Seebach, Counterexamples in Topology, 1970, pp. 61‑62., 1961 Levine ANorman Levine, On the Commutativity of the Closure and Interior Operators in Topological Spaces, Amer. Math. Monthly, v. 68 no. 5, 1961, pp. 474‑477. |
| 11:  | 2009 BGS‑b AJanusz Brzozowski, Elyot Grant, Jeffrey Shallit, Closures in Formal Languages and Kuratowski's Theorem, Developments in Language Theory, 13th International Conference, DLT 2009, Lecture Notes in Computer Science, v. 5583, pp. 125‑144. |
| 10:  | 1978 Fishburn APeter C. Fishburn, Operations on Binary Relations, Discrete Math., v. 21, 1978, pp. 7‑22., 1966 Kuratowski‑a BKazimierz Kuratowski, Topology. Volume I. New Edition, Revised and Augmented., English translation by Jan Jaworowski, 1966, pp. 41‑43. |
| 9:  | 1975 BJ AJoel Berman, Steven L. Jordan, The Kuratowski Closure-Complement Problem, Amer. Math. Monthly, v. 82 no. 8, 1975, pp. 841‑842., 1974 Munkres BJames R. Munkres, Topology: A First Course, 1974, p. 101. |
| 8:  | 1936 Sanders ASamuel T. Sanders Jr., Derived Sets and Their Complements, Bull. Amer. Math. Soc., v. 42, 1936, pp. 577‑584. |
| 7:  | 2011 SW AJeffrey Shallit, Ross Willard, Kuratowski's Theorem for Two Closure Operators, arXiv:1109.1227 [math.GN], arXiv.org, 2011, 6 pp., 1986 BF PEdwin Buchman, Generating Sets in a Topological Space, Problem E3144, Amer. Math. Monthly, v. 93 no. 4, 1986, p. 299, Solution: Jesús Ferrer, v. 95 no. 4, 1988, p. 353., 1977 Moser ALouise E. Moser, Closure, Interior, and Union in Finite Topological Spaces, Colloq. Math., v. 38, 1977, pp. 41‑51., 1974 GE AYu. R. Gaida, A. É. Eremenko, On the Frontier Operator in Boolean Algebras with a Closure, Ukr. Math. J. (English), v. 26 no. 6, 1974, pp. 662‑664., 1972 Pigozzi AD. Pigozzi, On Some Operations on Classes of Algebras, Algebra Universalis, v. 2, 1972, pp. 346‑353., 1968 BL PStephen Baron, Kuratowski's 14‑Sets, Problem 5569, Amer. Math. Monthly, v. 75 no. 2, 1968, p. 199, Solution: Eric Langford, v. 78 no. 4, 1971, p. 411., 1966 Kuratowski‑b BKazimierz Kuratowski, Topology. Volume 1. With a foreword by P. S. Alexandrov., Russian translation by Mihail Âkovlevič Antonovskij, 1966, in Russian. |
| 6:  | 1984 Shum AKar‑Ping Shum, On the Boundary of Kuratowski 14‑Sets in Connected Spaces, Glas. Mat. Ser. III, v. 19, 1984, pp. 293‑296., 1982 Soltan AV. P. Soltan, Problems of Kuratowski Type, Mat. Issled., v. 65, 1982, pp. 121‑131, in Russian., |
| 5:  | 1996 Shum AKar‑Ping Shum, Closure Functions on the Set of Positive Integers, Sci. China Ser. A, v. 39 no. 4, 1996, pp. 337‑346., 1980 Soltan AV. P. Soltan, On Kuratowski's Problem, Bull. Acad. Pol. Sci., Sér. Sci. Math., v. 28, 1980, pp. 369‑375, in Russian., 1966 Bourbaki BNicolas Bourbaki, Elements of Mathematics: General Topology Part 1, Exercise I.1.3, 1966, pp. 117‑118. |
| 4:  | 2003 Brandsma AH. S. Brandsma, The Fourteen Subsets Problem: Interiors, Closures and Complements, Topology Explained, Topology Atlas, 2003, 4 pp., 1997 BRR PMark Bowron, Stanley Rabinowitz, Closure, Complement, and Arbitrary Union, Problem 10577, Amer. Math. Monthly, v. 104 no. 2, 1997, p. 169, Solution: John Rickard, v. 105 no. 3, 1998, pp. 282‑283., 1995 MT AM. S. Moslehian, N. Tavallaii, A Generalization of the Kuratowski Closure-Complement Problem, Punjab Univ. J. Math., v. 28, 1995, pp. 1‑9., 1995 GO‑a AEmmanuelle Garel, Jean Pierre Olivier, On Closures Verifying that the Interior of a Closed Element is Closed, Comm. Algebra, v. 23, 1995, pp. 3715‑3728., 1993 Shum AKar‑Ping Shum, The Amalgamation of Closure and Boundary Functions on Semigroups and Partially Ordered Sets, Proceedings of the Conference on Ordered Structures and Algebra of Computer Languages: Hong Kong, 26‑29 June 1991, 1993, pp. 232‑243., 1980 FP AM. J. Fischer, M. S. Paterson, The Fast Skew-Closure Algorithm, L'Enseign. Math., v. 26, 1980, pp. 345‑360., 1977 Blok AW. J. Blok, The Free Closure Algebra on Finitely Many Generators, Ind. Math., v. 80, 1977, pp. 362‑379., 1975 YS AKai-Wing Yip, Kar‑Ping Shum, On the Structure of Kuratowski Sets, J. Chin. Univ. Hong Kong, v. 3, 1975, pp. 429‑439., 1972 CJ AS. Comer, J. Johnson, The Standard Semigroup of Operators of a Variety, Algebra Universalis, v. 2, 1972, pp. 77‑79., 1967 Nelson AEvelyn Nelson, Finiteness of Semigroups of Operators in Universal Algebra, Canad. J. Math., v. 19, 1967, pp. 764‑768., 1963 Halmos BPaul Halmos, Lectures on Boolean Algebras, Van Nostrand Mathematical Studies, v. 1, 1963, p. 17., 1962 Chapman‑a AThomas A. Chapman, An Extension of the Kuratowski Closure and Complementation Problem, Math. Mag., v. 35 no. 1, 1962, pp. 31‑35., 1937 Stopher AE. C. Stopher Jr., Cyclic Relations in Point Set Theory, Bull. Amer. Math. Soc., v. 43, 1937, pp. 686‑694., 1928 Zarycki‑a AMiron Zarycki, Allgemeine Eigenschaften der Cantorschen Kohärenzen (General Properties of Cantor's Coherences), Trans. Amer. Math. Soc., v. 30 no. 3, 1928, pp. 498‑506, in German. |
[portmanteau above]@gmail.com


© 2012-2023 mathematrucker